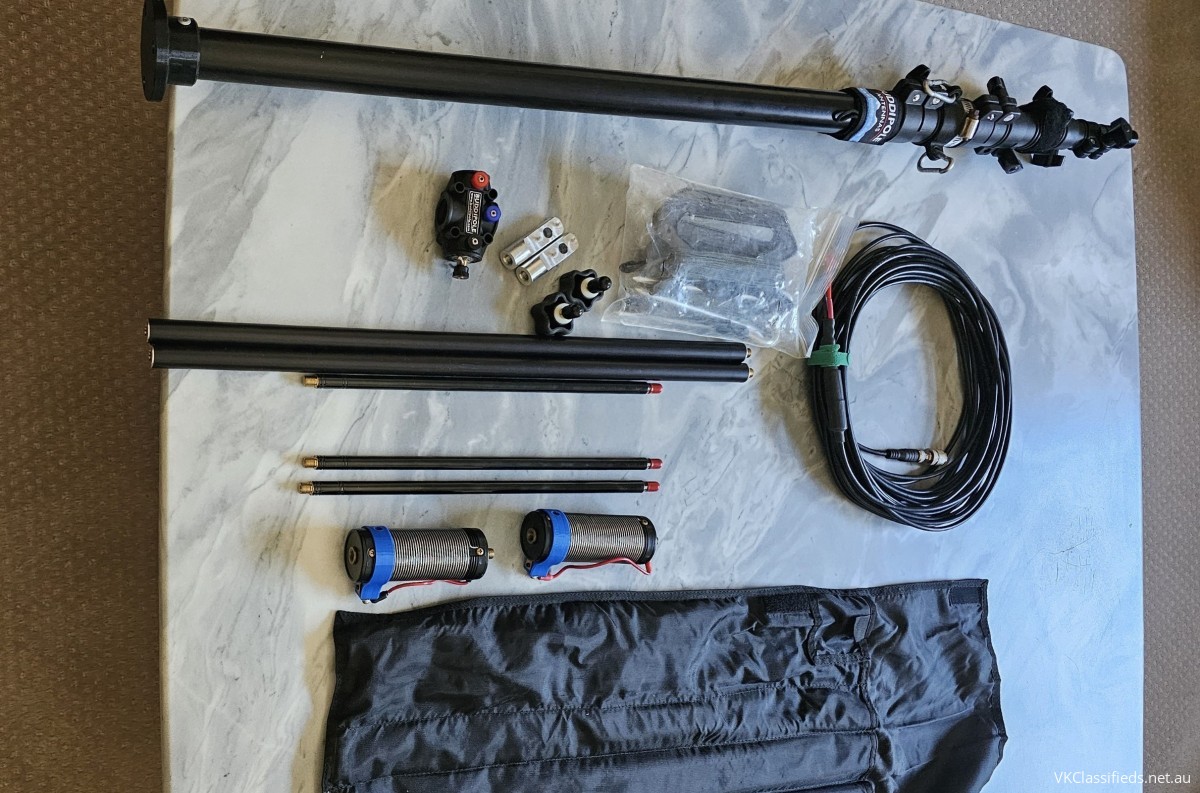 BUDDIPOLE DELUXE PRO SYSTEM - plus extras
I originally purchased the Buddipole Deluxe antenna kit and progressively purchased additional accessories that allowed the original system to be configured in many more ways, specifically adding the capability to tune 80M band (with the larger coil) and also to make various size yagi and J-pole antennas for both HF and VHF/UHF bands.
I also added additional telescopic whips both short (1.7m) and long (2.8m), plus extension arms also short (550mm) and long (830mm), as well as two folding capacitance hats.
You will note the blue rings on each of the coils. I found the moveable clip arrangement that Buddipole uses is cumbersome and prone to losing the clips and/or damaging the coil from over tightening. I reconfigured the moveable clips to a sliding contact arrangement that gives rapid and continuous adjustment without wear and tear on the coil. The contact point in the ring is made of Beryllium Copper.
If you prefer the clip approach, it is very easy to remove the blue sliding ring and re-attach the moveable clip directly to the coil.
Please note:
From experience, the 5m mast is not really usable with the tripod as it tends to fall over very easily (potentially damaging the antenna) unless properly guyed. I have added a clamping point for three guys at the top of the base section (you can see the snap hooks in the photo). When used with this guy point the mast is extremely stable.
The balanced 300 ohm ladderline feeder and switchable balun that I added allow you to set up a minimum loss feeder system instead of using the coax feeder.
The low band coil extends the lower range of this Buddipole system to the 80M band.
The additional Versatee allows you to set up both a HF and a V/UHF antenna at the same time from the included parts.
The complete list of parts/components is as follows, with quantities shown in brackets.
Standard deluxe Kit comes with the following:
Versatee (1)
Rotating Arm Kit (1)
Antenna Arm 550mm (2)
Telescopic Whip 1.7m (3)
RG-58 Coax Cable Feeder with integral choke (~8m)
Counterpoise Adapter (1)
Telescopic Mast 5m (1)
Mast Guying Kit (1)
Long Carry Bag (1)
Extra pieces added to Standard Deluxe Kit:
Versatee (1)
Antenna Arm 550mm (2)
Antenna Arm 830mm (2)
Rotating Arm Kit (1)
Folding Capacitance Hat (2)
Telescopic Whip 1.7m (3)
Telescopic Whip 2.8m (4)
Low Band Coil (1)
IT Adapter (3)
IT Collar (2)
Radial (with wire holder) (1)
Switchable Balun (MFJ) (1)
300 Ohm Balanced Line Feeder (~10m)
RF Choke w SO-239 (for higher frequencies) (1)
From the Buddipole website, the cost of these items comes to over A$2,000 PLUS shipping.
Paypal
Direct Deposit
Cheque
Cash